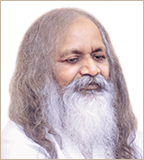 Maharishi Mahesh Yogi
Maharishi Mahesh Yogi
The knowledge of Transcendental Meditation has been made widely available in the world today by Maharishi Mahesh Yogi.
Maharishi received the technique from his teacher with whom he studied for many years, before inaugurating an international organisation to spread the knowledge of Transcendental Meditation globally in 1957. Maharishi first came to the UK in 1959.
Teaching over 5 million people Transcendental Meditation
During the past 50 years, due to Maharishi's achievements more than five million people have learned Transcendental Meditation and over 40,000 teachers of Transcendental Meditation have been trained, opening thousands of teaching centres throughout the world. Hundreds of Maharishi schools, colleges and universities have been founded and Transcendental Meditation programmes have been introduced in private businesses, universities, prisons, the military and other public institutions.
Život u skladu sa Prirodnom zakonom
Mahariši je, takođe, potpuno obnovio hiljadama godina staru i razbacanu Vedsku književnost, istinski značaj njene teorije i prakse i organizovaoi je u obliku celovite i sistematične nauke o svesti.
Maharišijevi praktični programi tiho uspostavljaju život u skladu sa Prirodnim zakonom i menjaju pravac vremena u korist mira i sreće za čitavo čovečanstvo.