Course Fees for Transcendental Meditation
Our course fees cover the full six-month programme, teaching you the technique and helping you become thoroughly self-sufficient in the practice of Transcendental Meditation.
Standard fees
We'll give you as as much personal attention as you need to be confident in meditating. There are many different payment methods available and it's also possible to pay with instalments
£590: individual income over £40,000 pa
£490: individual income over £25,000 pa
£390: individual income under £25,000 pa
We offer a 15% discount on the combined fees for couples.
Once a course has commenced refunds are not possible.
Cene tečaja za porodice i decu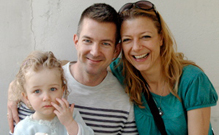 Potrebno je da bar jedan roditelj praktikuje Transcendentalnu Meditaciju, pre nego što njihova deca nauče ili da uče u isto vreme.
Svaki roditelj plaća odgovarajući iznos za sebe (videti standarne cene, gore)
RSD 37.500 za porodice sa školskom decom, u kojima samo jedan roditelj privređuje, sa nižim prihodima
Deca ispod 10 godina uče tehniku posebno prilagođenu njihovom stadijumu razvoja. Ako ne uče u isto vreme kada i njihovi roditelji, cena je RSD 6.250
Tailor-made courses and group rates
We can also quote for private instruction, groups, and in-house courses for business and educational institutions. Please contact us for details.