Transcendental Meditation Reduces Stress Naturally
Stress is a fact of life - but it doesn't need to be.
Everyone is aware of the negative effects of stress. It decreases performance, harms relationships and creates physical wear and tear. In short, it curtails enjoyment of life. Furthermore it tends to build up in the system over the course of a lifetime. Even a good night's sleep or an extended holiday does not enable us to recover fully.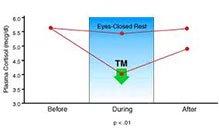 Hormones and Behavior 1978 10(1):54-60
Creating a balanced outlook
There may or may not be things we can do to reorganise our lives externally in order to help to reduce stress. But whether or not this is an option, internally Transcendental Meditation actually eliminates the effects of stress, physiologically. When practised regularly, this results in a more balanced outlook, more energy, motivation and a deeper appreciation of things.
I sposobnost da se izborimo sa stresnim situacijama
Budući da je svaki pojedinac drugačiji, uravnotežujući efekti Transcendentalne Meditacije mogu doneti različite dobrobiti različitim ljudima, kao što su na primer, ređe glavobolje, poboljšano spavanje, povećana energija ili bolji odnosi. Međutim, dobrobit koja je zajednička većini ljudi, jeste da se svi bolje nosimo sa stresnim situacijama i lakše ih prevladamo, nakon što naučimo Transcendentalnu Meditaciju.
Istraživnje stresa
Pročitajte šta kažu lekari, naučnici i istraživači o tome kako Transcendentalna Meditacija povećava mentalno blagostanje, zdravlje i dugovečnost, i smanjuje nezdravo ponašanje.
Transcendentalna Meditacija, stres i mozak